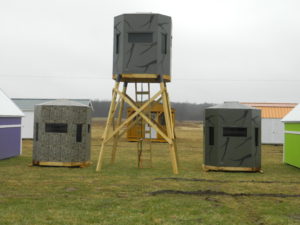 We are proud to be a Dealer of Double Drop Hunting Blinds. Hand Crafted with an individual personal detail to each blind these blinds are not mass produced.
Amish Quality Craftsmanship
Amish Quality Crafted Hunting Blinds that provide discreet, warm, dry, scent free, sound isolated freedom of a comfortable hunting blind in any weather conditions at ground level or elevated. These blinds are very nice for bow hunting, gun hunting, deer hunting and can be utilized as an ice fishing shanty or outdoor shelter for photography etc…
Our blinds are an octagonal shape with 8 sides to eliminate blind spots and provide more room to move for 1 or 2 people with gun, bow or crossbow.
Hunting Blind Sizes, Features & Options:
Our Hunting Blinds are offered in 4′ x 6'  & 5′ x 6′ Bottom Entry or Side Entry.  For a dual purpose alternative you can option for both openings a side  & bottom entry allowing the blind to be utilized as an Ice Fishing Shanty.
Standard Features:
Insulated walls, side entry doors & roof with no exterior fasteners.

1 1/2″ Solid Foam Insulation roof & walls laminated / bonded between exterior aluminum and interior wood sidewall & stick framing.

8 Tinted silent sliding windows.
Drip edging on all windows.
Dark finished interior to help prevent movement detection.
Carpeted shooting rests.
Bottom entry is standard.
Carpeted floor.
Ventilation for your safety.

Floor level vent. (Sealed with screens)
Roof ridge vent.  (Sealed with screens)
Optional Features:
 LED Strip Light (12v Battery included)
Side Entry Full Size Door (with keyed lockset)
Combination entry doors. (Bottom & Side Entry)
Carpeted Shelves

Small (6 1/2″ x 24″)
Large (6 1/2″ x 42″)

Realtree® Camo Exterior Finish on Aluminum.
Blind Elevation Kit.

Includes – (1) Treated Ladder, (4) 10′ 4″ x 4″ Treated Legs, (8) 2″ x 4″ Treated Cross Braces, (4) Leg Mounting Brackets & all fasteners.
These are High Quality Blinds at an "Affordable Price"
Prices Ranging from $1,260.00 – $2,335.00 per Hunting Blind
Example of fully optioned 5′ x 6′ Side Entry Blind at a price of $2,335.00 (1) Realtree® exterior finish  with (1) LED Light Strip (2) Carpeted 24″ Shelves, (2) Carpeted 42″ Shelves and a 10′ Blind Elevation Kit included.
Example of standard 5′ x 6′ Standard bottom entry with (1) Blind Elevation Kit at a price of $1,645.00.
Sales Tax, Delivery or Set-up is not included in pricing examples within this advertisement.  Delivery charged by the mile or a flat rate to be determined with dealer & customer.
For information please give us a call today or stop by and see us:
Always Available for Appointments!!